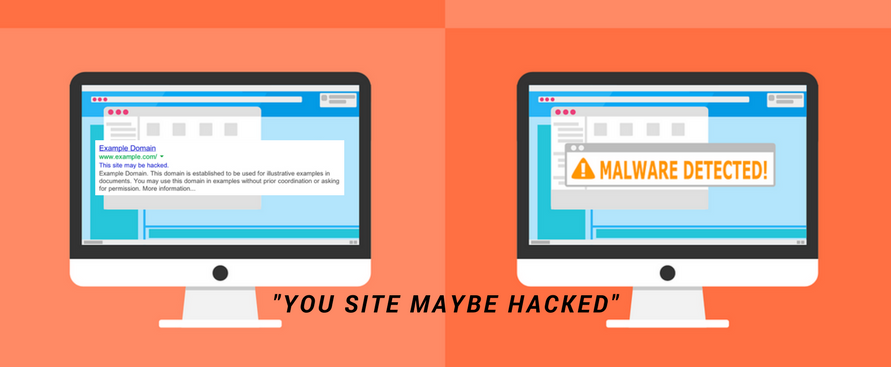 Have you ever noticed that when you search for a site on Google the results sometimes have a notification below the description which says "This site may be hacked"?.  We have received many complaints from customers trying to resolve these issues themselves and not being unsuccessful even after spending a few dollars to have an expert to resolve it. These messages can drive consumers away from your site as the notification may alarm them. So without further delays let's see what types of antidotes are available to resolve these problems.
How does this happen? This process can take place due to multiple issues. A common cause is that some developers build websites using hacked template or themes. Which can create a chain of multiple backdoor access to hackers that will install spam content, divert guests to different destinations, introduce infections on guest's computer, and gather sensitive data from your website? If your website was built using Joomla or WordPress, then the use of nulled or outdated plugins can cause the same effect. If you find that your website might be compromised then head over to Sucuri and scan your website for malware. This will help determine the cause. Another common cause is due to multiple user's access to the websites. Securing your passwords and prevent sharing amongst users is the key to preventing hacks.
How to prevent such incident? If you haven't already done so and or think that your site was incorrectly flagged, then register your site in Search Console and then head over to Security issues and look for a notification or URL that Google has crawled and flagged as infected. If for any reason you are unable to see the URL under Security issues, that could mean that the hacker is using a method technically known as Cloaking. This can cause the site URL to changes for each user, preventing the detection and cleaning process much harder. If cloaking is being used, then you will need to use Googles Troubleshooting methods in order to uncover the URLS.
Submit site for Review Once you are sure all malware and infected files have been removed or cleaned than this time to resubmit your site for Google to review. Navigate over to Google Search Console and resubmit the website under Security issues. Google will then double check to ensure infected files and content are secured. This site review process can take up to 24-72 hours to complete and once completed you will be notified at the email address on your Google Search Console account.
Backups: Always conduct daily, weekly or monthly backups as necessary to ensure in case of issues such as this you are able to pinpoint when the infection took place and if necessary replace infected content or directory. If you are on a maintenance plan provide by Enveos, we will ensure old backups are deleted up until when the infection took place. We have resolved over 1000 websites that were compromised in the last decades and there's always something new that you come across.
Other methods of securing your website: Install a malware detector on your website. This will help direct effected files if you have already been hit by a virus or looking to verify which files were infected and replace. Prevent unauthorized access by installing Google 2 step authentication. Ensure to install an SSL certificate on your website no matter if it's an eCommerce of none-e-commerce websites. Secure WordPress websites with Higher security enhancer. There are many features available to harden your website security.